The traditional theory about action potential is described here =>
http://nerve.bsd.uchicago.edu/med98d.htm#Propagation
There is a figure that shows the process:
Diane will remind herself the passive spread current (electrotonic current).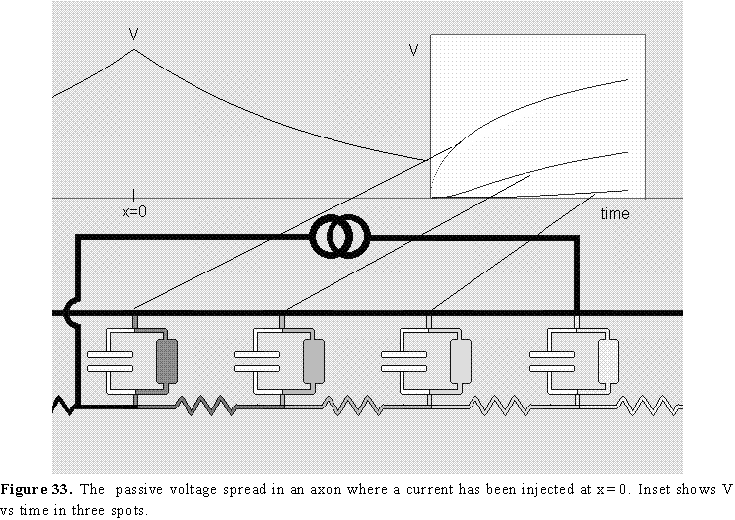 The analysis of the voltage distribution along the axon as a function of time for a stimulating current step in the center is shown schematically in Fig 33. In this case, the axon is immersed in a large bath of solution, therefore we may consider the external resistance close to zero, which makes the outside essentially isopotential. For this reason, the diagram is showing only the internal resistances connecting the membrane patches. Fig. 33 shows the current intensity as darkness in the wires, and it also shows the voltage distribution as a function of distance after we have waited a long time and all the capacitors have been charged to their final value (for this reason the currents are only in the resistive branches). When the pulse is suddenly applied, the current will go mainly to charge the membrane capacitance but most of this current will be taken by the capacitance closest to the electrode and much less by the capacitance further away because the internal resistance produces a voltage drop (V=ir) and less voltage will be seen by the distant capacitors. This initial capacitive charging may be considered like a short circuit at short times. As the capacitance near the electrode gets charged, the current in that region decreases and more can go to regions farther away and charge the rest of the axon capacitance. This means that regions far away from the current electrode will start increasing their voltage with a time lag.