For the first time in several years
Shallow Dive – Essays on the Craft of Manual Care
is now available in its third edition.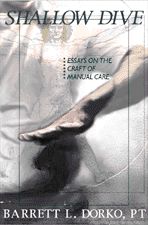 These essays were compiled in the early 90s and were my first attempt at creative nonfiction for the therapy community. Many detail my initial thoughts regarding neurogenic pain, self-correction and the intricacies of clinical life. They proved very popular and remain so as can be seen
here
.
Reviews from respected therapists and from several different countries can be viewed
here
and order forms are available
here
.
I've only ordered a few printed and many have already been promised so please consider that when requesting a book. I don't expect them to last very long.